Qualitaly Magazine is a magazine that has recounted the activities and experiences of Cooperativa Italiana Catering for many years.
Dedicated to the ho.re.ca. workers of the world, Qualitaly Magazine is aimed towards our affiliate's customers: restaurants, pizzerias, bars, hotels. It's a bimonthly magazine and every edition covers important topics currently linked to the Out-of-Home world.
The champions of Qualitaly are of course the chefs, to whom we dedicate the magazine cover with a "Chef's Face" feature. This draws attention to the passion, dedication and courage of these great people/characters, who are always under the spotlight these days.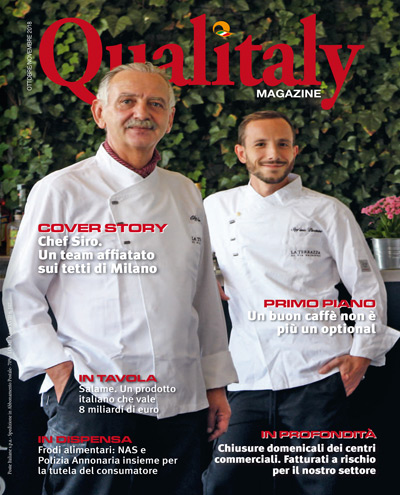 In questo numero
Un numero scoppiettante il nostro Qualitaly ottobre/novembre focalizzato sui temi di attualità più caldi del momento. Partendo dalla proposta di legge del Governo riguardante le chiusure domenicali dei centri commerciali, abbiamo voluto fare una rapida analisi della situazione, coadiuvati dall'esperienza diretta di quei punti vendita ubicati all'interno di queste strutture, che focalizzano il loro business proprio sulla presenza dei clienti durante il fine settimana. L'eventuale chiusura domenicale genererebbe una perdita di fatturato e di posti di lavoro davvero importante! Si passa poi alla sicurezza alimentare con un articolo molto approfondito che analizza gli errori da non commettere in cucina relativamente alla manipolazione e conservazione degli alimenti e una guida per evitare che NAS e Polizia Annonaria trovino situazioni borderline che provocherebbero la chiusura dell'esercizio. Si parla poi di caffè, salame, libri e una bellissima intervista allo Chef Siro, da 8 anni alla guida de 'La Terrazza' di via Palestro a Milano.
Read the Magazine